Photo courtesy of Gigwise.com
Glastonbury 2010 saw the celebration of 40 years of the seminal festival, and following the highly successful 2009 festival – which in some quarters had been the best to date following a number of slower years – this year had a lot to live up to.
I arrived on site extremely early – the Saturday before, to be precise – to be a part of the festival as a volunteer steward with Oxfam. The site was bustling with event staff, other stewards, riggers, sound men, traders, all getting ready for the big event when the doors opened on Wednesday morning. The fields, though, were eerily empty.
The weather forecast got better by the day, and indeed between Saturday and Wednesday the skies remained clear and baked us with blistering sunshine. Our hopes were that it would remain this way a few days longer. And it did. Glastonbury"™s 40th anniversary was a dry, hot, dusty, sun-kissed party; a bustling, noisy myriad of culture, creativity, colour, vibrancy.
Shangri-La, accompanied by Kode 9, The Uncommon Ground and Arcadia, are areas of their own distinct culture. Glastonbury is not just about the Pyramid Stage acts, and it would be almost as true, when you experience these pockets of creativity and become acclimatized to the patchwork nature of the festival, to say that Glastonbury is not necessarily about music at all. This is why Jay-Z was not the surprise inclusion 2 years ago billed by some and why Snoop Dogg was accepted this year without the hysterical backlash that accompanied the Jay-Z announcement.
This year, Gorillaz were a late replacement for a crocked U2 on the Friday night. Given the unabated success of Blur last year, Damon Albarn was no doubt brimming with confidence that a no-holds barred Gorillaz set, with a band made up of half of The Clash and an infinite number of possible cameo appearances at his finger tips, would give Glastonbury an opening night to remember.
Photo courtesy of Dancenova.com
To Albarn"™s, and admittedly my own, surprise and dismay, the set did not translate to the crowd. A host of weaker album tracks from the more commercially successful Demon Days (Parlophone, 2005) and Plastic Beach (Parlophone, 2010) were chosen over the stronger tracks from the eponymous debut album. Only Clint Eastwood made the cut, with the lively 19-2000, the anthemic Sound Check [Gravity] and fantastic Tomorrow Comes Today missing, while less-than-upbeat tracks like To Binge and Superfast Jellyfish from Plastic Beach were on show and trespassing on set closer/encore territory. Indeed, Albarn"™s attempt to get the crowd to sing along to set-closer Pirate Jet – "It"™s all good news now / Because we left the taps / Running / For a hundred years / So drink into the drink / A plastic cup of drink / Drink with the purple / the people / the plastic eating people / still connected to the moment it began" – fell on its face, much to Albarn"™s exasperation, despite the well-intended consciousness-raising sentiment – due to its verbose and distinctly anti-anthemic nature.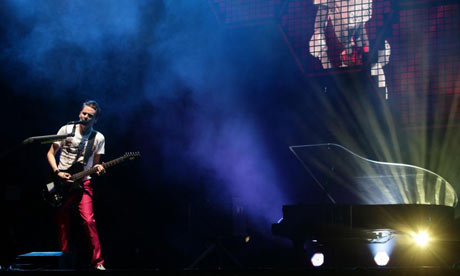 Photo courtesy of The Guardian/Yui Mok/AP
Muse, on the other hand, could not have proven a greater antithesis to the night before. Muse fell out of favour with this reviewer a long time ago; their music becoming ever-shamelessly bombastic, and self-awareness dropping to zero in favour of louder-than-loud riff derivatives and vaguer-than-vague political incitement. But there"™s no doubting that at whatever level you want to take Muse – the pinnacle of 21st century rock, uber space-opera gods or shameless glam-rock indulgence – it doesn"™t fail to entertain. And when The Edge joined them on stage for a cover of Where The Streets Have No Name, the highlight of Glastonbury 2010 was secured.
Photo courtesy of Gigwise.com
By far the largest crowd-draw of them all was Stevie Wonder"™s Sunday night headline set, and the funk legend showed the young upstarts of the two nights before just why he can still draw a crowd of 100,000 people after nearly half a century in the business. The set was full of classics, without having to rely on guest appearances or stage-bombast to generate emotions in the audience. He made reference to Michael Jackson to great cheer, uttered an indulgence-free anti-war sentiment in two sentences – "I believe God is about the perpetuation of life, not the destroying of it; If could see, I could really kick some ass!" – and closed the 40th anniversary by serenading the audience and Michael Eavis with a rendition of his own Happy Birthday To You. Wonderous.